Booking Us

Hire us to perform at your event
We offer a wide variety of components for your event, and we tailor our reenactment displays to each client. For the most accurate quote and information on what we can offer, contact us at enquiries@vikingsof.me.
Our displays can be everything from a small band of warriors or craftsmen adding flavour to your event as a 'pop up history' attraction, to large scale multi-day events where we can set up our Living History encampment and provide combat displays or other performances.
We can perform at indoor or outdoor venues. We've set a blacksmiths forge up on the lawn of a cathedral, and fought a battle in the Great Court of the British Museum!
In addition to our displays we also offer technical support, and advice on how to safely create areas for our displays. With our high quality P.A. system the audience — your customers — can hear as well as see the action. We also provide our own First-Aid team, so your valuable first-aiders can concentrate on looking after your customers.
Our participants are covered by £multi-million Public Liability Insurance, so you can be sure our displays are Safe and Secure for your customers. The insurance covers the use of Steel Weapons in our displays, display and have-a-go Archery, and Pyrotechnics. Please don't hesitate to contact us to find out more!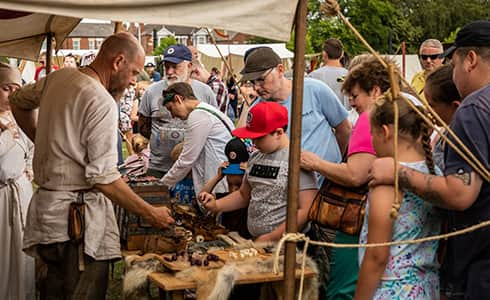 Your Event
Vikings of Middle England has the expertise and exceptional track-record to make your event great. To help you plan your event, we will need to consider the following:
Camping space and suitability — depending on how many tents we need to bring will govern the space required, but most of our tents are 20' x 10' in size, with extra space needed for guy ropes, and ingress/egress. Extra space between tents is needed for people in wheelchairs, or parents with pushchairs. The ground will need to be suitable for putting in 9-12" pegs, and not prone to standing water or flooding.
Arena space — to perform combat displays we need a marked arena. We can provide stakes and ropes to create this, but recognise that we may not be the only attraction and that you may build your own. In that case, we need a double barrier with the distance between the inner and outer rope/barrier being at least 6' apart.
Water, WC and Wood — this may seem obvious, but we need 24 hour access to fresh drinking water, lavatory facilities, and if overnight camping is expected, fire wood. These are NOT included in any price quoted and must be provided by the sponsor. If hiring portaloos for multi-day events, you need to take into account that participants will be using them overnight when calculating man-hours.
Event scheduling — we will discuss exactly what displays or arena events we will be able to perform, but usually in a 6-hour event day we can perform multiple times, use a rolling-scenario format, or other formats depending on the scope and flavour of the event.
Site and vehicle access — we need drivable access to the camping area to unload and load our equipment. Setups for larger events are usually done on days preceding the event, so we will need unrestricted access to the camping area during this time. On the event day, we are happy to remove vehicles from the event area, but will need access the moment the event closes to the public (particularly for emergencies in the evenings when the event is closed).
We will always require a site-visit with new clients to assess the event area, and discuss details. To get a better idea of what we can offer, or for any queries, please contact us.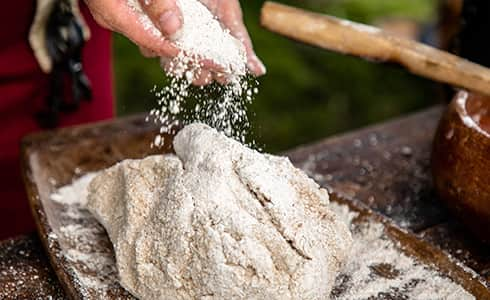 Authenticity
Authenticity is the term we use to describe the historical accuracy of our kit and equipment, and the verisimilitude of our performances.
One of the main ways we do this is by representing the normal people of the Viking Age. The farmers, labourers, artisans and craftspeople. We have plenty of reproductions of extraordinary items, but you won't find a field of nobles and kings sitting around in our camp. Instead, you'll see busy people making and demonstrating important domestic crafts.
We demand a very high standard from our participants, with clothing and items around our camp checked against the latest research and interpretations.
To facilitate this, we have a dedicated research team who, in an ongoing process, evaluate and re-evaluate all items of kit twice a year. For most items we have a 2-year turnaround to renew or replace reproductions made with out-of-date understanding.
What you are getting with Vikings of Middle England is a truthful impression of history, to the best of our ability and knowledge, and nothing that is going to confuse an audience. We flat out ban fantasy and 'cool-thentic' items, and undocumented additions that TV shows like Vikings and The Last Kingdom use.
Some argue that if we are only entertaining the audience, and they don't know the difference between (for example) a fantasy helmet and a Viking helmet, then it doesn't matter if they are used together. To us, it does. Everything the audience sees is a tangential learning opportunity. Human beings have the extraordinary ability to make connections between what they see, hear, touch and smell, and things they have learned and forgot long ago.
That's not to say there aren't practical barriers to representing history as truthfully as possible. We use modern hygiene standards in food preparation, we camp in cotton canvas tents because they have to be water proof to protect us from inclement weather over many years of use, and we take the safety of our members seriously. For example, combat safety equipment such as gloves are 'in the style of' Viking age things but aren't themselves 'authentic.'
Our goal is always to be informative and entertaining, and to give an accurate impression of Viking-age life. We think we do it better than anyone else. To find out ore about our events, please contact us.
Testimonials

What others have said about us...
"In the Top 10 of UK family re-enactment events" — BBC Countryfile Magazine
"Thorough Historical Research" — The Telegraph
"Excellent value for money" — Bosworth Battlefield Centre
"A pleasure to work with, utterly professional" — BBC Television
"The performances were wonderful!" — British Museum
The highest quality, informative and visually exciting" — Leicestershire Museums
"Best Battle Arena Event Winner" — Fortress Wales 2016 at Caldicot Castle
"What a fabulous day. They were all absolute troupers performing and being so hospitable and open with their wisdom and knowledge in the immense heat. I went away with a smile on my face and a warmth in my heart feeling educated and entertained." — Vistor, Rockingham Castle
"...once again we're delighted to have such an entertaining and enjoyable event." — Owners, Rockingham Castle